Have you ever wanted to feel like a princess? Draped in silk and lace? Or like a fairy, with magical clothing that was light and fair, and oh so soft?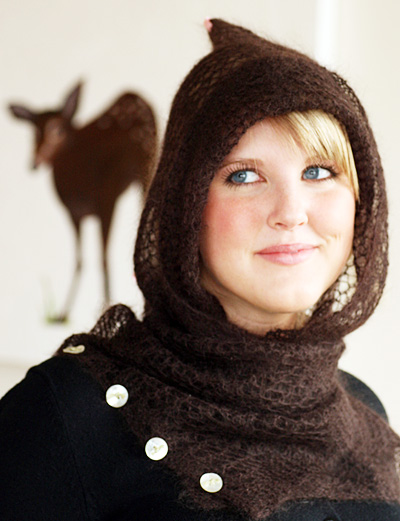 Wisp
, from Knitty is that kind of garment. So versatile, it can be worn as a wrap, a shawl, a hooded scarf, a cowl, or a normal dangle from your shoulders scarf. It is knit is a lightweight yarn that drapes like magic. And it is a simple lace pattern, no charts, no complicated numbers to remember, no beating yourself up when you forget your YO or you K2Tog...Just a simple and forgiving pattern. I started Wisp this afternoon in a gorgeous reclaimed mohair and acrylic blend. I found it on etsy for just a few dollars, and it arrived in the mail this morning.
Another thing to look forward to this week is the
Get Spun
book release.
Symeon North
will be at one of my favorite local fiber shops this Saturday doing demos and a book signing party for her new book.
In honor of this event, I shall show some of the fibers that have inspired my art yarns in the past...
(
Found Here
)
(
Found Here
)
Also, I received my May Phat Fiber Sampler box in the mail yesterday...OMG there is so much pretty in there I haven't wanted to touch any of it, cause I don't want to disturb the beauty. Or maybe it is just because I wanted my house clean first...any which way you look at it.....today is my fiber play day!
From the hand spun and hand dyed yarns
From left to right"
"Sakura" 50/10/10 Merino, Cashmere, Nylon from
Play at Life Fiber
"Lublu" Superwash Wool from All for the Love of Yarn
"Early Spring Blooms" Mohair, Wool, Tencel, Bamboo, Fabric flowers from
Cool Climates Handspun Yarns
"Roses of France" Merino, Wool from
Bitsy Knits
"Botanica" Superwash Merino from
Ambrosia and Bliss
"Cherry Blossom" Merino and Tencel from
The Dyeing Arts
and "Tulip Blaze" Merino from
Stricken Smitten
And there was more than just yarns in that box! From roving, to mini-batts, braids and locks...mmm....
In no particular order, we have:
"Pocket Posies" in Merino by
Spindipity
"Spring Bouquet" by
Desired Haven Farms
"Flower Power" in a (random) mix possibly containing Romney, BFL, Sari Silk, Milk Protein Fine wool, Wool nepps, Angora, Mohair and silk waste from
Giffordables
"Blossoms and Bark" in Superwash Merino from
CJ Delights
Mohair locks from
Wonders Mohair
"Bougainville" in Milk Protein Fiber from
BeesyBeeFibers
"Lady Slipper Orchid" in Wool and Mohair from
Farmgirl Chic
"Coral Moon" in Merino and Tencel from
Moonlight and Laughter
"Coral Gables" in 90/10 Wool Mohair from
Natchwoolie
"Scallop" in Rambuillet from
The Fuzzy Bunny
I also got a few patterns and some discount coupons for other shops...
I love my Phat Fiber boxes, you can get yours too, if you want, just check out the
Phat Fiber
blog for more information.